MADRID CONTINUE TO STRUGGLE IN RONALDO'S ABSENCE
Real Madrid continue to struggle in the absence of Cristiano Ronaldo. The defending La Liga champs have made a poor start to the new term as they drop more points in the draw against Levante.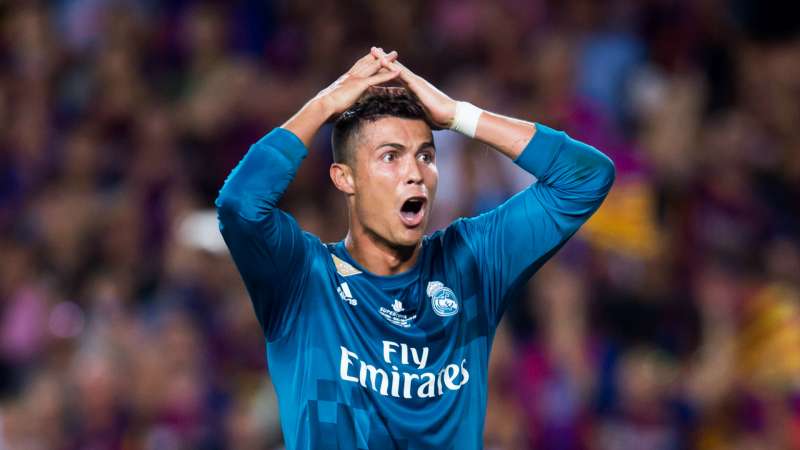 The Portuguese still has a game to serve to complete his five game match ban for his red card and referee push incident. Real Madrid play Real Sociedad on Sunday but afterwards the prolific goalscorer can then be available for selection.
Since the red card was for Spanish fixtures, the player would be available as Real play APOEL in the Champions League on Wednesday.
After winning their first game, Madrid have drawn their last two, leaving them four points adrift Barcelona early in the La Liga race. The latest was the stumble at the Bernabeu against Levante. The team has now lost KarimBenzemato injury. He could be out for one month, further limiting the goalscoring options at the club.
The bad news so far are in line with what analysts had predicted ahead following the sale of Alvaro Morata to Chelsea without a replacement of any sort. The lack of striking options has been revealed and it could get bad as Madrid are set to have a busy three weeks.
Real players Marcos Llorente and Theo Hernandez have admitted that they miss Ronaldo and his goalscoring but that the team would continue to fight.
With European football in sight, any injury to Ronaldo could mean a terrible first half of the season for Zinedine Zidane who refused to strengthen the side this break. The major acquisition was DaniCeballo, who has now been injured.
Hopefully, the team can ride the storm. Barcelona are taking advantage of Real's slip as they cruised to their third win, with Lionel Messi hitting a hat trick.